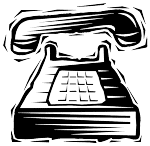 Well, if I called the wrong number, why did you answer the phone?
[
James Thurber
]
When I moved into my house, I had to get a new phone. The local phone company, then part of Sprint, allowed me to pick one so I selected one whose last four digits matched my wife's birthday. She thought that was nice (points made). It turned out it wasn't such a good idea.
A few months, say about 6, before I got that number, it belonged to a wholesale used auto parts company. That's a euphemism for "junkyard". We found this out when we began getting calls from people looking for all sorts of used auto parts. Five to ten a week. One of the two phone books available here still had the company's number listed in its "yellow pages". After awhile, I was getting peeved at all the calls but realized that it wasn't the callers' fault so I tried not to take it out on them.
Because I live in a seasonal area, a place where people come for the winter months, calls increase during those months. I get a lot of people who call using old phone books. I put up with that for the first year. But we are on our third phone book since having that number so that is no longer excusable. I usually respond with:
"[The company name] has been out of business for over two years, it's time you got a new phone book."
That sometimes gets an angry response from the caller. Understandable, I suppose. I don't care. I even argued, briefly, with one gentleman who tried to tell me his phone book was recent... until I made him tell me what year was on the cover.
Some callers seem to think I am at fault for not being the company they were calling. Those people often get a rude response from me. One guy claimed that the owner of that company owed him money. He got an earful when he got belligerent. The truly annoying ones are the business service companies whose reps act like they are old buddies of "Scott" (the former owner of the company). They get blasted... unmercifully.
The owner of the business was pretty savvy, even put his business info out onto the internet. I curse him almost daily for that. I sometimes fantasize about providing his home phone number to those internet sites who list the business.
It has been well over two years now since the company went out of business and we still get the occasional call for them. I am no longer polite. I am angry. I have found that the internet is becoming my worst enemy. It is a constant, frustrating, battle to get the various internet sites to de-list the company. They ignore my emails, the ones who have phone numbers ignore the voice messages I leave. Even when I get the number of listings down to nothing new sites providing business listings pop up and list the old company.
I just went after 3 internet listing companies, for a total 7 sites. They have different domain names but they are all run by the same companies. One of them had only a phone number. So I called it, politely explained the problem, and suggested all they had to do was confirm my information by looking me up on
Anywho
or by trying to find the company the same way. I asked him where his company got the listing. He claimed the phone company sells them. Since I have the number, had worked in the telecom business for 34 years, and checked on this, I know the phone company wasn't selling it as that business listing anymore. Possibly to telemarketers as a residence but not as that company.
There is a media company nearby, affiliated with a TV station and a newspaper. They have a business listing service on their web site. It had the company listed, along with my phone number. I have been emailing them and calling their Sales Manager (who never answers his phone) and leaving voice mail asking them to remove the listing since this last summer. It was still there two days ago. I called the sales line, like I wanted to advertise through them. The poor guy who answered the line got an explanation of why I was calling and that I wanted to speak with a supervisor. I think he could tell I wasn't very happy.
He forwarded me to his boss and I explained to her the situation. She gave me her full name and seemed happy to help me out until she told me it might take some time. I told her she had 24 hours. I told her how long I had been trying to get her idiot company to remove the listing and I said, again, she had 24 hours. I used my "angry" voice. She said I didn't need to be rude. I said I had been fielding calls for an out of business company for two years because of idiots who fail to verify their listings and ignore complaints and that she hadn't heard "rude" from me yet but would if the number was still there in 24 hours. She said she would get right on it. It is gone now.
I am sure there is some company out there selling CDs full of company business listings and one day I will find them. Then the fur will really fly.
The only recourse I have left is to change my phone number. And there is no guarantee that the next number I get will be likely to be free of similar problems. Besides, I am even having a little fun with the callers.