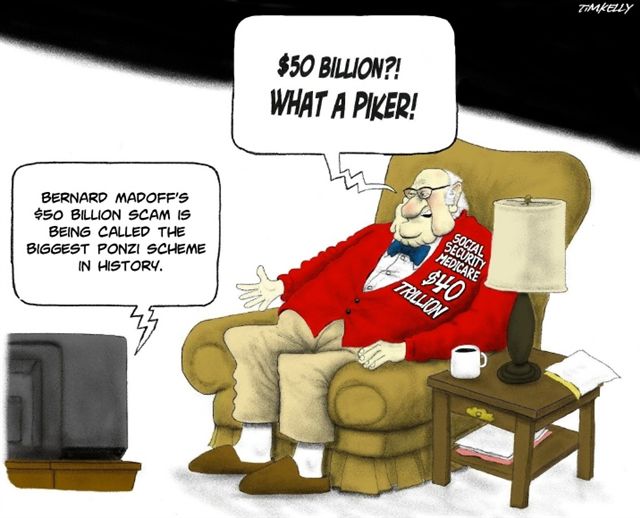 I think it is time for another question. Something to intrigue the curious, to initiate mischievousness in the clever and witty, yet something everyone can relate to.
But what subject? Maybe Bernie Madoff. Most of us didn't give him any money. But we might have some opinions about him and Ponzi schemes and about the ones who did lose money in that particular one.
I like that idea. Madoff, it turns out, is worth some $820 million plus. Since the losses are alleged to be some $50 Billion, that money had to have gone somewhere. I mean, we are talking about over 49 Billion dollars here. I am reasonably sure he didn't spend it all. Even with the help of his family, I am reasonably sure he couldn't have spent all that without some huge assets sitting around.
The way a Ponzi scheme works is pretty simple: You take money from investors and keep drawing in investors. As new ones invest, after skimming a bunch for yourself, you use that money to pay dividends to the earlier ones. Eventually, the schemes collapse because you run out of investors. Or because too many investors demand their principal back. Look at it like a run on a bank.
So who was hurt by Madoff? Mostly rich people who are complaining about losing millions. These are rich people who undoubtedly are not wiped out and have millions more in reserve so it is hard to feel bad for them. But I am told there were some charities who had invested with him and they will be hurt since they usually have no reserves at all.
The scope of this Ponzi scheme is what makes it so fascinating to us, I suppose. It went on for something like 20 years. That's a lot of new investors. I am reminded of P.T. Barnum's famous quote, "There's a sucker born every minute." Apparently, Madoff had the line on all the rich ones.
It does show one thing, though, even the rich aren't all that smart.
Oh, the questions (there's two)...
Have you ever been cheated in a Ponzi scheme?
Where do you think that $49 Billion went, if it was really that much lost?
[
862/863
]